Scratchbuilding On2 Maine 2-footer flatcars

with the TwoFootProjects group.


September 27, 2007


I am a member of the Maine On2 group, an internet discussion forum, and some of the guys over there started up a new "subgroup" called "Two Foot Projects" which is all about scratchbuilding On2 rolling stock!

The two groups can be found here:

The first project, started in 2007, is all about building Bridgton & Saco River flat car #41.

I eagerly jumped on board, and plan to build three flatcars with the group over the winter of 2007-2008. This webpage will be my "Builders log" of my flatcar builds.

I am going to follow the class when it comes to the basic construction techniques, but I am going to build SR&RL cars instead of B&SR cars...only because I expect my future On2 model railroad will be based mostly on the SR&RL, and that is the 2-foot railroad I know the most about right now, having visited Maine a few times already to check out some SR&RL and WW&F sites. So I will change a few details and letter my cars for the SR&RL, but other than that I will be "building with the class." It doesnt really concern me if my cars wont be exact for the SR&RL, no model is ever 100% accurate anyway! They will certaintly look like SR&RL cars, and thats all that matters.

I havent done much serious scratchbuilding like this before, so this will be a valuable learning experience for me. I was going to go with styrene, but changed my mind and went for wood instead. Soon I plan to go out to my local hobby shop and buy the necessary lumber, and it can begin!
Update, October 26, 2007

Construction begins!
I got all the styrene bits for the frame. (im going to build styrene frames with real-wood decking) I printed out "Lesson 3, making a jig" and got to work!
I changed my mind again about the construction materials! I am used to building in styrene, and im comfortable with it, but I feel that "wood looks more like wood than styrene made to look like wood looks like wood" So I am going with styrene frames,
with real wood decking.


Here are all the raw materials laid-out, the big slab of styrene is a big chunk I had laying around, it will be cut down to make the base of my jig.



The jig is up!


First frame finished!

Looks good!

Its not visable in the photos, but I ran the edge of a razor saw along the outer planks,
to create "wood grain" that will be visable once the car is painted.

So I made that first frame Friday night..I was planning on making the other two over the weekend. (Im going to build 3 cars for right now, two 28-footers and one 33 footer..im going to build SR&RL cars rather than B&SR cars..just change some minor details (like stake pockets and etc.) to match prototype SRRL cars..)
Which reminds me! I wanted to check out dimensions of SR&RL flats, to make sure they are the same as this B&SR flarcar the project drawing is based on..I already know SR&RL had 28' flats, so the length is fine..but what about the width? do I have any drawings or dimensional data? hmmm..not sure.
ah! here we go..some dimensional data. It says the majority of SR&RL flats were 6' wide..how wide is the flatcar frame I just made? ahhhh!! its too wide!
aw man..why didnt I check that before I made the jig?? That would have been a really smart thing to do.

My immediate reaction was simply "oh well..no big deal..so my cars will be a few inches too wide? so what?..it wont even be visable! its 1/8 inch..big deal!"
But as I continued to dwell on it, it kept bothering me!

I only made the jig and one frame so far..its not like im that far into it..it will bug me forever if I dont fix the problem!
So im going to start all over..make a new jig at the proper 6' width and start over from scratch. Not a big deal...and I will be much happier knowing they are the correct width!

(... a few weeks go by...)


Update, November 11, 2007.
started over!
Modified the plans so they are now the correct (for my SR&RL cars) 6' wide.
New jig created: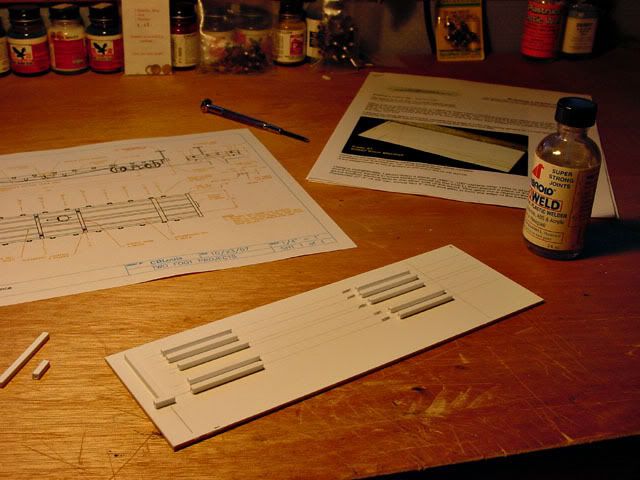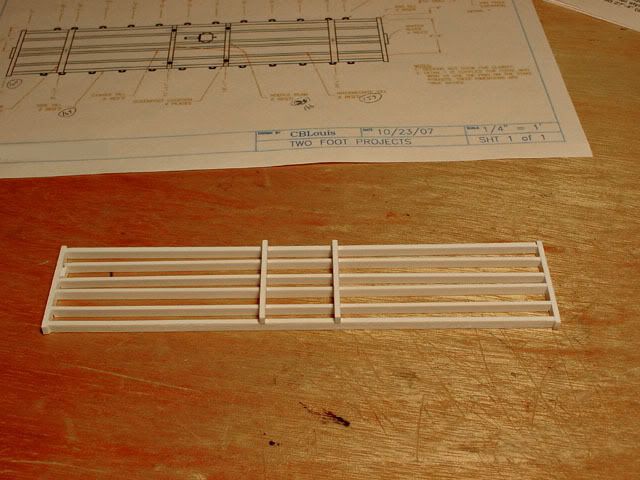 New frame #1.
I feel much better having the correct width!

thats all for now..
updates posted as work continues..
thanks,
Scot





Scot Lawrence
Rochester, NY
Back to the Two Foot Projects Group.