Genesee Docks.
Rochester, New York
The Buffalo, Rochester & Pittsburg began unloading coal along the Genesee River in 1889, loading coal into
ships for transport across Lake Ontario to Canada. Eventually a huge steel trestle was built along the river shore,
at the end of Boxart street.
The B&O took over the BR&P in 1932, and today the Genesee Docks is mostly remembered as a B&O facility.
The steel trestle was demolished and removed in 1974, and the spur to the docks was removed.
see "A history of Rochester Railroads" for more information on how the BR&P and the B&O fit into the history of
Rochester railroading.
Today, the site of the docks is part of Turning Point Park, and the right of way of the main tracks to the docks has
been turned into paved trails.
The remaining BR&P-B&O tracks in Rochester are today operated by the Rochester & Southern Railroad.


Photo from the Rochester, NY Library collection.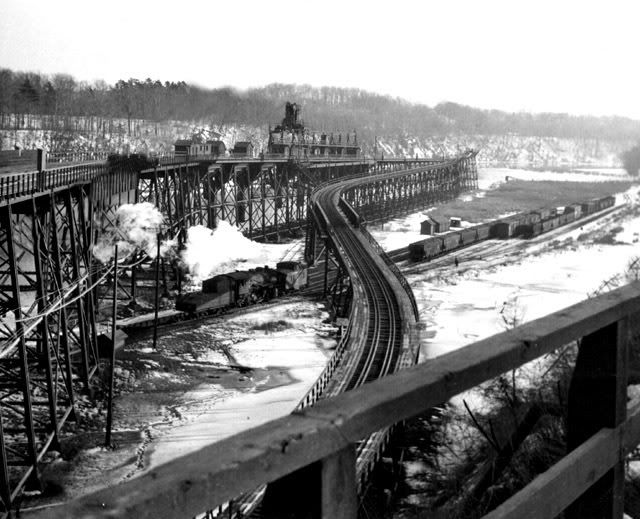 This photo is from the location of today's Turning Point Park overlook,
right off the parking lot. (based on the wood railing in the foreground,
it appears the area was also an overlook back then.)


"Mouse-over" the image below to toggle between 1926 and 2007.
The 1926 map is from a Rochester city "Plat Map", in the collection of the Rochester Library.
More maps, and lots of historic photos can be found on the Rochester Library's Rochester Images page.
The 2007 Aerial photo is from http://maps.live.com
be sure to check out the "birds eye views"! where you can find photos like this: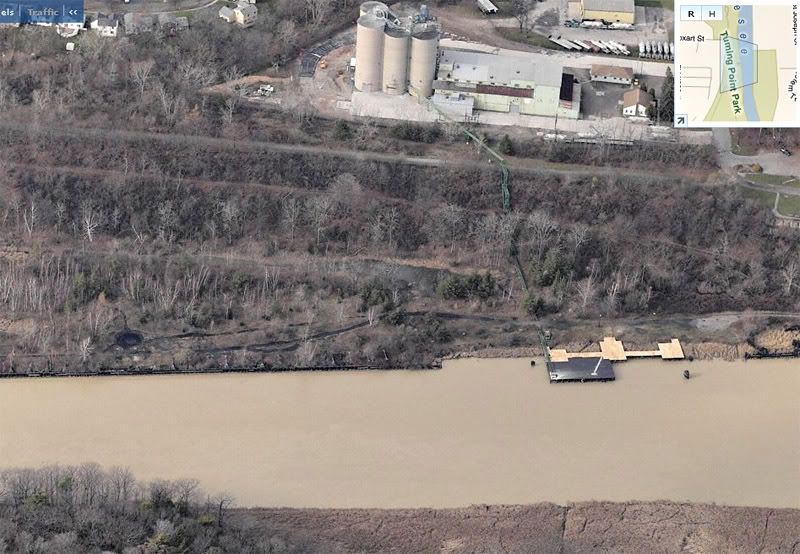 Thats a look at the Docks area today, looking West..concrete supports for the main trestle are still visable
right on the river edge, left side of the photo above.


Same area, looking South: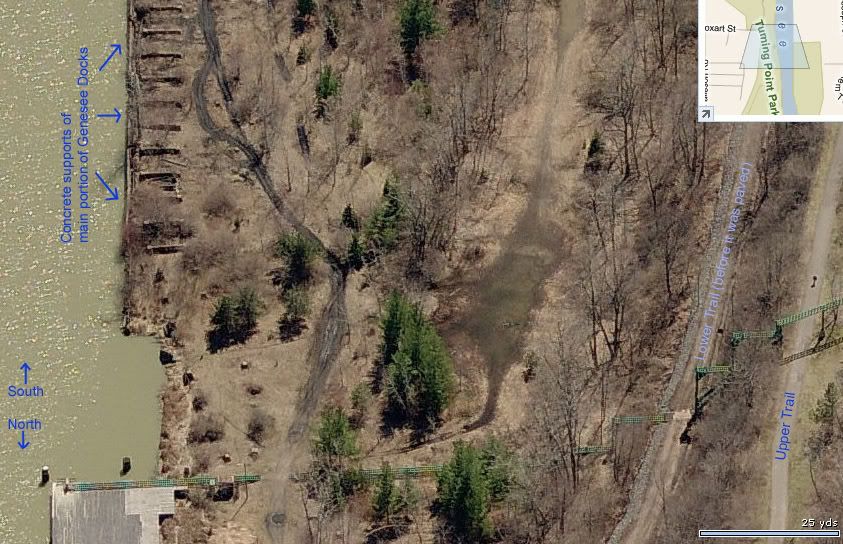 Those "Birds eye Views" are created by a company called Pictometry, which is based in Rochester!



Scot Lawrence
Rochester, NY